NEWS
Kris Humphries Reveals He Doesn't Watch 'Keeping Up With the Kardashians'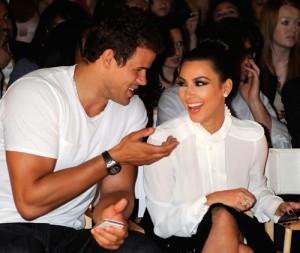 Kris Humphries is the newest member of the Kardashian royal reality TV family, but don't expect him to watch any episodes of the hit E! reality show. Kris revealed to ESPN.com that it's harder to watch himself on Keeping Up With the Kardarshians than on the basketball court.
"To tell you the truth, I don't really watch the show that much," Kris, who has been an NBA player for seven years, told ESPN.com. "I can watch myself on TV playing basketball but I don't really watch my own show. It is what it is."
Article continues below advertisement
Kris also opened up about his marriage, explaining why it works with Kim.
"Kim has a great heart," he shared. "I'm there to just keep it real."
Kris has tried to take an honest approach on the show, being himself not only with Kim but speaking up to the entire Kardashian Krew.
"That's who I am. That's what Kim loves about me. I know the producers are going to make it more dramatic," Kris said. "It just comes with the territory. Kim has been doing this for a long time and so have the family. I just became a part of it. How do you think I'm portrayed on the show?"
The NBA is still on lockout, so for the time being, Kris has been shooting Kim and Kourtney Take New York in the Big Apple and living with Kim, her sister Kourtney Kardashian, and Kourtney's son Mason and her baby daddy/boyfriend Scott Disick, in a penthouse suite at the Gansevoort Hotel on Park Avenue.
"After a while, I didn't even realize the filming. I know it might seem tough to be yourself but you get used to it," Kris said. "The filming has been a good diversion, really, to keep me busy, but I'm just itching to play basketball."
Kim's Fairytale Wedding: A Kardashian Event premieres Sunday, Oct. 9, at 8 p.m. ET/PT and concludes Monday, Oct. 10, at 9 p.m. ET/PT. Will you be tuning in?