NEWS
Kris & Kanye: A "Heartless" Pair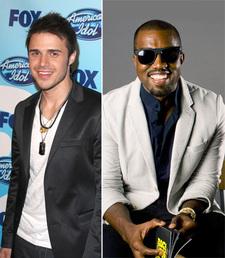 The world might get a double batch of singing "K" action soon: After American Idol winner Kris Allen covered Kanye West's song "Heartless" during the competition, the rapper became a fan.
"Yo, Kris. Congratulations. Get ready for the big leagues," Kanye congratulated the singer via a message on Extra.
Kris was listening to what Kanye put out there, and is grateful for the attention from the hip hop artist and entertainment mogul.
Article continues below advertisement
"Thank you for liking the song, Kanye. Thank you for writing the song," he tells Extra. "The whole CD is amazing. Hopefully we can work together. That'd be great. Thanks for the congrats. I appreciate it."
That's one "heartless" duet we'd love to see!