NEWS
Kristen Bell Gets Personal in Rome & at Home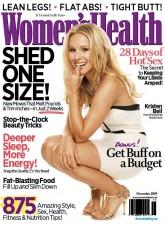 Need more Kristen Bell? For her November cover of Women's Health magazine, the star of Couples Retreat and upcoming films Astro Boy and When In Rome shared personal details about her relationship and how she likes to spend her time at home.
Kristen has been making the movie rounds lately and one film in particular must have really excited her to film — she had the opportunity to work with her real-life boyfriend, Dax Shepard, on her new film When in Rome.
Article continues below advertisement
She admitted, "We were trying to one-up each other. That's what we do at home, too. It's like, 'Wait-watch me do this funny bit.' 'No, watch me do this funny bit!.""
Their relationship off-screen is less competitive and more intimate. "I've learned the necessity for healthy communication," she explains. "How important it is to talk about your deepest, darkest fears and feelings. Your partner should hear your most embarrassing insecurities, because once you say them out loud, you've created a safe zone."
One embarrassing fact Kristen may be insecure about is her love for the show Rock of Love. Kristen said the show is, "A hot mess of embarrassment that you want to lie in forever."
Kristen values her time spend at home, dishing on she vegges out on her downtime.
"There is almost nothing, barring a natural disaster, that I would let eat into my time at home, playing Scrabble with Dax or talking to my girlfriends," she says. "There's packing your day and then there's jam-packing your day, and I won't do it anymore. I need to decompress. I need to feel like I'm a person — a human being — first."