NEWS
Kristen Bell Reveals Home Video of Her Sloth Freak Out on 'Ellen DeGeneres'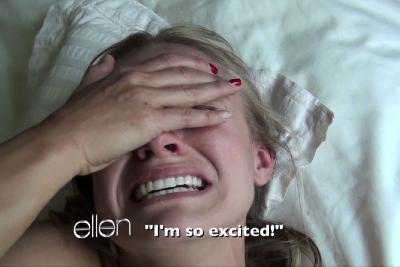 Kristen Bell had a very special guest at her 31st birthday party over the summer — a sloth. Kristen is so in love with sloths that she became completely hysterical with joy and was sobbing on her bed! Luckily, her fiancé Dax Sheperd got it all on tape.
OK! GALLERY: KRISTEN BELL SETTLES IN ON SET OF NEW SHOWTIME SERIES
Kristen decided to share her embarrassing home video on The Ellen DeGeneres Show and it is absolutely priceless. Dax told Kristen he got her a present that "no one else will get in their lifetime." On the day of her birthday, there was a knock on the door and Dax told her to go sit in her room while he got her present ready.
Article continues below advertisement
Thinking over what her present could be, Kristen guessed Dax was surprising her with a sloth.
"I didn't know how to process that because my entire life had been waiting for this moment," she recalls to Ellen DeGeneres.
OK! NEWS: KRISTEN BELL — BIEBER FEVER "CANNOT BE CURED!"
Kristen prepped the audience for the home video by warning them, "First thing you should know about me — if I'm not between a 3 and a 7 on the emotional scale, I'm crying."
"So I am sitting on my bed knowing that a sloth is here.... I start to have a full-fledged panic attack," Kristen says.
Dax came into the room with a video camera and was ready to have Kristen come out of the room for the big birthday present reveal, but she was crying hysterically and completely freaking out on the bed.
"I'm so excited," Kristen says in the video through her tears.
"Do you want to come be a part of setting up his little habitat?" Dax asks sweetly.
"He's coming for the party?" Kristen cries.
Kristen is just too adorable for words.
Watch the hysterical video over at Ellen.com!