NEWS
Kristen Bell's a Biker Babe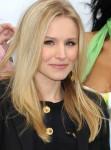 Kristen Bell doesn't shy away from taking risks. The petite actress, 29, who is engaged to Dax Shepard, got her motorcycle license.
"It was intense," she tells me during Marshalls Unlock Your Shopportunity event to benefit Dress For Success held in NYC.
"They assess your risk-taking skills, and they ask you a whole bunch of questions psychiatrically that would make them figure out whether or not you would blow a stop sign if no one else was around, which I passed with flying colors 'cause I follow the rules even when no one's looking."
Article continues below advertisement
She continues, "I took my test in the pouring rain of a Mercedes dealership parking lot, which I thought was the most ironic place to hold it, because if I hit something, I don't just hit a tree – I hit someone's Mercedes. I kept it on my Flip video, which I'll have to cherish for the rest of my life. And I took it in the pouring rain, which was very hard."
What's it like riding a motorcycle?
"They're hard to control," she says. "I thought I would be a lot better at it than I was, but there is something about the whole concept of the freedom of the road that's very inspiring. But I think for now, having experienced it, I might stick with my beach cruiser. It's a little more controllable."
She finds motorcycling exhilarating.
"Life is full of fun things to do that mess with your adrenaline like roller coasters or riding a motorcycle," Kristen says. "Sometimes those things are fun to mix it up."
Still, she isn't totally fearless.
"I don't trust myself enough to ride out into the street on my own," she says. "That's a big machine. I'm not going to join the Hell's Angels."
Hm, what inspired her to get her motorcycle license?
"I don't know," she says. "I felt like it was always something I wanted to do."
Marshalls has donated $100,000 to Dress for Success by giving them high-quality designer merchandise, creating empowering opportunities for women as they re-enter the workforce. To find the closest Marshalls near you, visit https://www.marshallsonline.com.