NEWS
Kristen on Kissing Rob: It Was "Pretty Cool"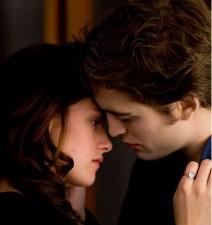 Get ready for the understatement of the year (at least as Twi-hards are concerned)! OK!'s sister mag in Britain is on the scene in London for all the latest New Moon Mania, where Kristen Stewart admitted to the OK! Brits during a press conference that kissing her co-star Robert Pattinson was "pretty cool."
As for addressing their real-life romance, K-Stew was a bit more reserved, and played coy on the issue of their chemistry, saying she had to stay close to Rob to play her character (CLICK HERE to see the twosome holding hands in France!).
Article continues below advertisement
"Any good relationship that I've had with an actor has been so emotional and personal," she tells OK! UK, adding of her other co-star, "If you don't have that then you're just lying. I have that with Taylor Lautner."
CLICK HERE FOR ALL OF OK!'S NEW MOON STORIES AND PICS!
So how is Kristen adjusting to all that spotlight?
"Everyone knew what they were getting themselves into – even if we didn't know about the massive amount of attention we'd receive."