NEWS
Kristen Stewart to Be "Practically Naked" During 'Breaking Dawn' Sex Scenes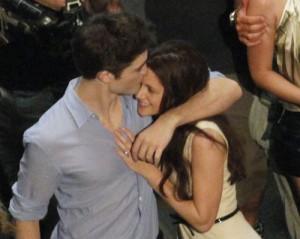 Kristen Stewart will have to use some of the confidence she gained filming practically naked Welcome to the Rileys scenes to the set of The Twilight Saga: Breaking Dawn because Kristen will reportedly be "practically naked" for the sex scenes!
OK! GALLERY: ROBERT PATTINSON & KRISTEN STEWART KISS KISS FOR BREAKING DAWN NEWLYWED SCENE
Kristen has been causing quite the stir in the Twi-hard world after steamy pics hit the Web of the star filming honeymoon scenes with Robert Pattinson in Brazil.
Article continues below advertisement
And it sounds like those pics are just a taste of what's to come!
According to E! News, director Bill Condon will be calling the shots on how to film the sex scenes in Breaking Dawn, but the script might make it difficult to keep the film PG-13.
"The script actually has Kristen practically naked in it, a lot," a source who's reportedly seen the script said.
However, according to E! News, Bill will have to cut most of the nudity to keep the rating where he wants it, but apparently he also like to film scenes as real as possible.
So we know Kristen will be "practically naked" on set, but what about Rob?
Surely, he must be too. A Twi-hard can only hope!
OK! GALLERY: ROBERT PATTINSON & KRISTEN STEWART — GIDDY CAB COUPLE
Or maybe he's too turned off by Bella's wedding dress? E! News also reports that the dress Bella wears when she marries Edward is not so hot.
"It's hideous," the insider said. "And it's not the designer's fault. Let's just say someone who has final say on the matter has decided upon a terribly conservative and ugly gown."
Well, it sounds like the wedding dress might not be on for too long anyway!