NEWS
Kristen Stewart on Robert Pattinson: "I Call Him Flippy"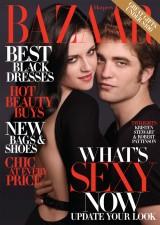 Hundreds of thousands of adoring fans might disagree, but Kristen Stewart reveals in the new issue of Harper's Bazaar, on stands Nov. 17, that her New Moon co-star and co-cover model, Robert Pattinson, is anything but smooth on set! "Rob can barely jump rope," she says after claiming the title of more athletic. " I call him Flippy because when he does his stunt rehearsals, he flips around makes gestures like a penguin. And God, when he tries to run..."
Article continues below advertisement
He does have a few other talents however, as Kristen says Rob is "a great singer. Heartbreaking."
She's not the only one with praise to dole out — R-Pattz says Kristen is one of a kind.
"She's a unique girl. You really don't meet many people like Kristen."
And on the topic of romance, Kristen is ready to confirm what all those countless fans have already imagined, claiming that Rob's the more romantic one. "I'd have to say Rob is. I think romance is anything honest," she explains. "As long as it's honest, it's so disarming."
However if you ask Rob the same question, he laughs and denies it, saying, "No. I'm better at faking."
One thing they definitely share — but of course disagree on — is the guilty pleasure of Googling themselves! So who does it more?
"Kristen would say me, but I reckon it's her," says Rob. "If either one of us catches the other one doing it, we're like, Jesus Christ, is that what you're looking at? And the other one's on their phone pretending to text. I look up my competition more than she does. I'm incredibly shallow. I think she just looks at herself."
MORE PICS FROM HARPER's BAZAAR: