NEWS
Kristen Stewart & Russell Brand? Don't Think So...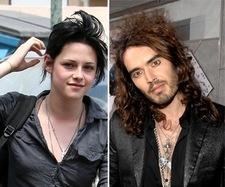 As reported in the current issue of OK!, it hasn't exactly been easy for Twilight star Robert Pattinson and his leading lady Kristen Stewart to be separated by more than 3,000 miles this summer while they each work on their own non-bloodsucking-related films. But that doesn't mean you should believe a report that the 19-year-old actress has been cozying up with British funnyman Russell Brand.
One scurrilous story out this week claims that Kristen "couldn't keep her hands" off the Forgetting Sarah Marshall star during a visit to L.A. club MyHouse last Saturday night. That would be an interesting development in the RobSten romance — if it were true!
Article continues below advertisement
One clubgoer who was sitting with Russell at MyHouse during the night in question tells OK! that this story is "completely false." Not only that, but another insider confirms that Kristen wasn't even at MyHouse at any point during the weekend.
"Russell was there," says the source. "But he was talking to John Mayer a lot of the night. I'm not sure where the confusion even came from — John certainly doesn't look like Kristen."
Well maybe... with new mullet haircut? Nah...
We even got this, straight from MyHouse co-owner Tony Daly: "There were several celebrities at MyHouse that night, but Kristen Stewart was definitely not one of them. She's 19 and we have to turn away under 21-year-old celebrities all the time, painfully so, but we look forward to having Kristen at MyHouse, 'sipping on vodka,' when she turns 21."
<a href="http://www.okmagazine.com/pixandvids/gallery/14966/1" target="_blank"><img src="https://d-images.okmagazine.com/img/photos/large/32750.gif" height="100"/></a> <a href="http://www.okmagazine.com/pixandvids/gallery/14966/2" target="_blank"><img src="https://d-images.okmagazine.com/img/photos/large/32749.gif" height="100"/></a> <a href="http://www.okmagazine.com/pixandvids/gallery/14966/3" target="_blank"><img src="https://d-images.okmagazine.com/img/photos/large/32748.gif" height="100"/></a> <a href="http://www.okmagazine.com/pixandvids/gallery/14966/4" target="_blank"><img src="https://d-images.okmagazine.com/img/photos/large/32747.gif" height="100"/></a> <a href="http://www.okmagazine.com/pixandvids/gallery/14966/5" target="_blank"><img src="https://d-images.okmagazine.com/img/photos/large/32746.gif" height="100"/></a> <a href="http://www.okmagazine.com/pixandvids/gallery/14966/6" target="_blank"><img src="https://d-images.okmagazine.com/img/photos/large/32745.gif" height="100"/></a> <a href="http://www.okmagazine.com/pixandvids/gallery/14966/7" target="_blank"><img src="https://d-images.okmagazine.com/img/photos/large/32744.gif" height="100"/></a> <a href="http://www.okmagazine.com/pixandvids/gallery/14966/8" target="_blank"><img src="https://d-images.okmagazine.com/img/photos/large/32743.gif" height="100"/></a> <a href="http://www.okmagazine.com/pixandvids/gallery/14966/9" target="_blank"><img src="https://d-images.okmagazine.com/img/photos/large/32742.gif" height="100"/></a> <a href="http://www.okmagazine.com/pixandvids/gallery/14966/10" target="_blank"><img src="https://d-images.okmagazine.com/img/photos/large/32741.gif" height="100"/></a>