NEWS
Kristen Stewart Tried Not to "Die" on the Set of 'Snow White and the Huntsman'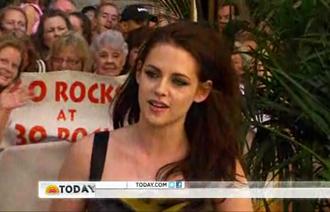 Article continues below advertisement
"I swear I didn't mean to," she told Ann Curry on the plaza this morning about clocking the Thor star in the face, joking, "He got too close."
Actually, Kristen says (believe it or not!) she never trained for battle and was completely out of her element while doing the intense stunt work on the set. Director Ruper Sanders just told her to take hold of the sword and go with it!
"It's funny, I thought we were going to do a whole load of choreography and fight-training rehearsal, but basically, at the end of the day, Rupert put a sword in my hand and said, 'Don't die,'" Kristen said.