NEWS
Kristen Stewart Talks 'Breaking Dawn' and Bedrock Past With Jay Leno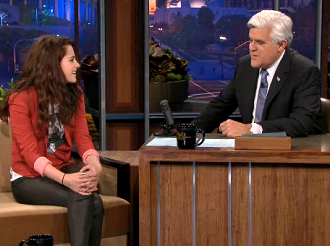 Article continues below advertisement
"I wasn't trying to have, like, ultimate swag when I walked out," Kristen explained, laughing. "I hurt my foot... and I wasn't trying to get out of wearing heels, either, that wasn't the case."
The new scenes depicted Bella, who is now a vampire, on her first hunt.
"The first hunt is always so important... I just wanted more of it, we all wanted more of it," Kristen said.
OK! GALLERY: ROBERT PATTINSON AND KRISTEN STEWART ARRIVE IN VANCOUVER FOR BREAKING DAWN PART 2 RESHOOTS
Jay encouraged the star to talk a little more about how she decided she wanted to be an actress.
"I grew up on a set, and it's not the easiest route to take," Kristen said. "And it's so random and by chance, that things stumbled together and I am doing this."
K-Stew also revealed that her first on-screen appearance was in 2000's The Flintstones in Viva Rock Vegas.
"I was the ring-toss girl," Kristen said.
Jay then surprised K-Stew and the audience with a clip of Kristen doing the ring-toss from the movie. Her costume is far cry from Bella's wedding gown, but still very cool. Watch the clip here.