NEWS
Kristen Stewart Talks 'Rileys' to OK!: "I Learned How to Pole Dance"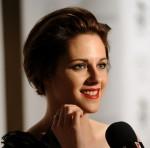 While promoting her film Welcome to the Rileys Kristen Stewart opened up about how she was able to get into character, including actually going to a strip club!
OK! GALLERY: KRISTEN STEWART STOPS FOR AUTOGRAPHS
"I went to my first strip club," Kristen told reporters. "Upon entering, the guy was like, 'You'll have to come back later if you want a job.' "
And did she actually learn how to pole dance? The answer is yes!
Article continues below advertisement
"I learned how to pole dance, although you never really see it. You do for a second; it's like in silhouette. It really hurts and you don't realize, of course, it's really going to show."
OK! GALLERY: KRISTEN WELCOMES THE RILEYS TO NYC
What surprised her the most about making the film?
"I think what surprised me most is probably the fact that I was so unaware of the fact that I was walking down the street with my robe opened and fishnets and beyond caring at all. I wasn't scared," Kristen explained to reporters. "I had known about this for a while before it got up and running. I'm really glad that it took awhile to do so, because I think I was old enough to play the part -- as opposed to not ready. I think I would have shied away from too much, so it was shocking to find myself in situations like that, being completely fine with them."
OK! NEWS: KRISTEN STEWART ON TWILIGHT — "I'M REALLY LUCKY TO HAVE MY CAST"
How did those racy outfits (sometimes all she walks around is a T-shirt!) help her get into the character of Mallory?
Kristen told OK!, "I think what is cool about the costume is you think stripper... I don't think a whole lot when I think stripper, to be honest. A lot of people have certain ideas about how they must be and I didn't really have any but I always imagined they'd be sexy at least or something because that's sort of their job but it's on the contrary."
"You're exposed so often, entrenched, the entire time, literally, never wanting to take off the trench coat, living in New Orleans it's hot," she added to OK!. "So that was interesting. Also, stuff is really dirty. Everything else: makeup, sets obviously, anything to make you feel like you're there."