NEWS
Kristen Stewart is "Proud" to be Imperfect: "I Look Like S**t in Photos & I Don't Give a F**k"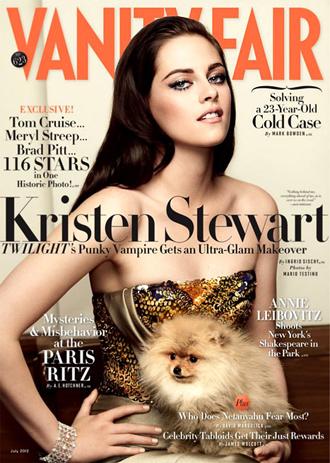 Kristen Stewart may be one of Hollywood's brightest stars at the moment with the success of The Twilight Saga and other films like Snow White and the Huntsman, but the 22-year-old actress admits that while she may be a celebrity, she's anything but perfect.
In a candid new interview with Vanity Fair, Kristen, who covers the July issue, confesses that she's always been an individual and doesn't plan on changing anything about herself to fit Hollywood's standards.
Article continues below advertisement
OK! GALLERY: KRISTEN STEWART, JESSICA BIEL & MORE WOW AT THE 2012 MTV MOVIE AWARDS!
"I have been criticized a lot for not looking perfect in every photograph," Kristen tells Vanity Fair. "I get some serious s**t about it. I'm not embarrassed about it. I'm proud of it. If I took perfect in pictures all the time, the people standing in the room with me, or on the carpet, would think, 'What an actress! What a faker!' That thought embarrasses me so much that I look like s**t in half my photos, and I don't give a f**k."
"What matters to me is that the people in the room leave and say, 'She was cool. She had a good time. She was honest.' I don't care about the voracious, starving s**t eaters who want to turn truth into s**t," she adds.
Kristen reveals she's been struggling with criticism about her looks since she was a little girl, being deemed a "disgusting" tomboy at a young age.
"Look at a picture of me before I was 15. I am a boy. I wore my brother's clothes, dude!" Kristen tells the magazine. "Not like I cared that much, but I remember being made fun of because I wasn't wearing Juicy jeans. I didn't even think about it. I wore my gym clothes.
Article continues below advertisement
"But it's not like I didn't care that they made fun of me. It really bothered me," she adds. "I remember this girl in sixth grade looked at me in gym and was like, 'Oh, my God! That's disgusting — you don't shave your legs!'"
Kristen also talks about her infamous "pipe-smoking photo" which, she confesses, "changed my daily life instantly."
"It was taken the day the movie Twilight came out. I was no one. I was a kid. I had just turned 18," Kristen recalls. "The next day it was like I was a delinquent, slimy idiot, whereas I'm kind of a weirdo, creative Valley Girl who smokes pot. Big deal.... I didn't go out in my underwear anymore."
OK! NEWS: KRISTEN STEWART: "I FEEL BORING... I WANT SOMETHING BAD TO HAPPEN"
Despite what people say, Kristen knows who she is, and so does her boyfriend and Twilight co-star, Robert Pattinson. "People have decided how they are going to perceive her," he tells Vanity Fair. "No matter how many times she smiles, they'll put in the one picture where she's not smiling."
"The perception of her is that she's 'awkward,'" Rob adds. "But it's funny knowing her. It's the absolute opposite of what people think. She's insanely confident."