NEWS
Kristen Stewart's Shaky Speeches — Is She Improving?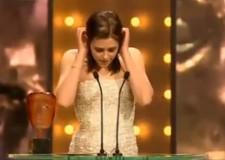 Kristen Stewart is a fan favorite on the silver screen, and everywhere she goes a media blitz follows. By now, one would think she's become used to the limelight; however, public speaking still seems to be nerve-racking for the Twilight superstar. From her BAFTAs speech to past live appearances, OK! takes a look at some of Kristen's most awkward on-air moments.
ACCEPTANCE SPEECHES
K-Stew finds comfort in scratching her head, playing with her hair and sitting hunched over (while simultaneously rocking back and forth at times) during live appearances or acceptance speeches.
Article continues below advertisement
These actions have become part of Kristen's on-air routine.
OK! HOT GALLERY: KRISTEN STEWART SHARES A PASSION FOR BURBERRY PRORSUM
It's hard to blame Kristen for her anxious nature — after all, Twi-hards are some of the most serious fans out there, and all the attention must be overwhelming.
Kristen's big night at the BAFTAs is a perfect example of one of her awkward acceptance speeches. She won the Orange Rising Star award and timidly accepted the honor onstage.
MAY 2009: Kristen's BAFTA speech was an improvement from last year's MTV Movie Awards, where Kristen dropped her golden popcorn bucket for Best Female Performance in Twilight!
Our favorite part is the adorable look on Robert Pattinson's face (51-second mark) as he laughs at Kristen.
LATE NIGHT TV INTERVIEWS
NOV. 2008: On Kristen's first visit with David Letterman, you can tell she is nervous as she sits hunched way over.
Article continues below advertisement
NOV. 2009: A year after her Letterman appearance, Kristen jokes with Conan O'Brien about how her dad gets upset when she doesn't finish sentences during her interviews.
PRESS JUNKETS FOR FILMS
2007: Kristen discusses her film In the Land of Women, in which she co-starred with The OC star Adam Brody.
Here we see some major playing with — and pulling of — her hair when she attempts to discuss her intimate scenes with Adam.
FEB. 2009: Kristen discusses her new film The Yellow Handkerchief (which the 19-year-old actress shot when she was 16) with MTV news.
In the following video, Kristen reminisces about her career before all the Twilight pandemonium and looks more comfortable.
"It was mine then; it was just mine," she told MTV of her career at the time. "And no one cared about it. It was cool."