NEWS
Kristi Crowned DWTS Champ!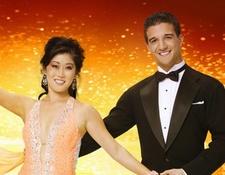 Riding high on a wave of perfect scores on Monday night's performance finale, figure skating superstar Kristi Yamaguchi became the latest celebrity to be crowned champ on Dancing with the Stars.
With her dance partner Mark Ballas, the Olympic gold medalist froze out the other two remaining couples: all-pro football star Jason Taylor and Edyta Sliwinska, who finished second, and Chilean actor Cristian de la Fuente and Cheryl Burke, ended up in third.
Article continues below advertisement
Kristi, who about her experiences on the show, became the first woman to win the hit ABC reality show since its first season, when soap star Kelly Monaco took home the disco ball trophy.
"It's a huge honor," Kristi told OK! after the show. "Obviously this is a gift from the fans. We danced our hearts out all season for the fans. It's been the most amazing adventure and I can't thank Mark enough for giving me this gift."
She plans to appear with the other two finalists on Good Morning America on Wednesday and wave the green flag to start the Indy 500 this weekend. Then she'll take a much-needed rest after her long dancing journey.
"I just want to take a break and be with my family," explains the mother of two girls Keara, 4, and Emma, 2, with hockey player husband Bret Hedican. "I know my kids have been missing me a lot so we'll just chill out for awhile."
Article continues below advertisement
Meanwhile, Jason admitted to OK! he wasn't surprised about his second-place finish: "I would have been shocked if we would have won. She so deserved it. Edyta and I sat here ten weeks ago and watched her dance the first time and it was like, whoo! This is a waste for us to even do it."
Jason said his only regret is that he couldn't win for his dance partner and DWTS regular Edyta — who has never finished first.
"I'm disappointed for her. She hasn't won one," he said. "But I was happy to get to this point; I never thought I would be in the finale."
Jason said he learned from doing the show, "if you take more chances than you normally would, you can accomplish things. I know it's been said forever that if you set your mind to something, you can do it, but this is one thing I never, ever thought I would do. I tried it, it was scary, but Edyta is a sparkplug and kept the train going all season and I can't thank her enough."
Article continues below advertisement
The football star said he's planning to take a trip with wife Katina and their three kids. "We're heading to the Bahamas, just get lost and go to the beach and do nothing. No dancing. No working out, nothing. Just laying around."
After that, he's ready to get back on the football field. "I can still play. I'm ready to go. I'll take a few days off and get back to work." He'd also love to break into acting and hopes someday to appear in "action type film."
Jason's dance partner Edyta Sliwinska will be visiting her native Poland with her husband, former DWTS pro Alec Mazo, who didn't participate in the show this season. "I'm going to Poland for a couple of weeks," she told OK! "I need my mom to take care of me. I need to be spoiled for awhile. I'm tired. I definitely need a break."
Third-place finisher Cristian wasn't disappointed either, saying, "Kristi was definitely the best." His partner Cheryl added, "It was time for a woman to win."
Article continues below advertisement
Gutsy Cristian, who injured his left bicep tendon during the competition but managed to finish third, next faces surgery on his arm. "Surgery and six weeks of recovery," he told OK! After that, he'll be promoting his summer USA network drama series, In Plain Sight, in which he plays a baseball player from the Dominican Republic who has a relationship with an American woman played by Mary McCormack.
His dance partner will devote herself to promoting the Cheryl Burke Dance Center, her new chain of dance studios, and will visit schools and encourage kids to take up dancing for physical fitness.
By Carole Glines