NEWS
Kristin Davis: "I'm Nothing Like Charlotte"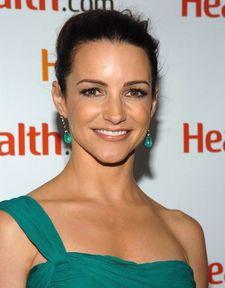 As women flock to the theaters this weekend to satisfy their itch for Sex--and the City, the cast's Kristin Davis is opening up about the film, turning 40, and why she considers herself the complete opposite of her character Charlotte.
"I'd love to find someone to fall in love with but I'm not as traditional as Charlotte," the actress tells Parade.com's Jeanne Wolf. "I'm not completely marriage-obsessed like Charlotte was. I would definitely like to fall in love with someone and go through life with them."
Article continues below advertisement
Growing up in the South, Kristin says there was definitely pressure to settle down at a young age, but these days she's holding out for Mr. Right, which perhaps does makes her just a little bit like Charlotte!
"There was a lot of pressure that you marry well and that you marry relatively young," she says of her Southern upbringing. "If you didn't you were kind of left out. It made me angry because why was that the be all and end all for a young woman? I think that women should be free to do whatever they want to do. I just haven't found the right person."
When SATC, the movie, started filming Kristin, like most of the cast, had already crossed the bit 4-o. But the actress insists she's ok with where she is.
"I thought I would never hit 40," she confesses. "I drank a lot as a teenager. It became a real problem for me. I was really shy and I didn't know how to come out of my shell. I drank for the same reason I love acting--I wanted to feel things and express myself and be free."
Article continues below advertisement
Davis, who says she's left her drinking days far behind her, looks as good now as she did when Sex and the City premiered, 10 years ago! So how does she do it?
"Doing the movie was a reminder that spending 18 hours a day on those heels is a pretty good work out," she says. "I always say I'm going to start a fitness regimen. I've been a member of a gym and everything but I just don't work out."
Good genes aside, Kristin says there's one thing she'll never get used to when making films--shooting loves scenes!
"Previous to the getting on the show I was pretty uptight about that stuff," she admits. "Simulating sex was a strange part of our jobs. There is no debate about that. It's a strange thing!"
It was also strange for Kristin's family, who she says avoided subscribing to HBO!
"In the beginning, my parents didn't even have HBO and they weren't about to get it because my grandmother lived in the house with them and they didn't want to her to get a glimpse of her granddaughter in bed with some guy," Kristin says, adding, "But after she died they subscribed. Then I had to call my mom every week and go, 'I'm taking my nighty off so don't watch!'"