NEWS
Kurt Cobain Remembered by Twitter on the Anniversary of His Death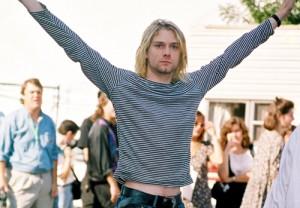 Twitter fans are remembering the lead singer and guitarist of Nirvana, Kurt Cobain, after he shot himself in the head 17 years ago today on April 5, 1994. And while many fans are paying their respect to Kurt today for being a talented musician, others are taking the opportunity to attack his widow Courtney Love.
OK! VIDEO: WATCH CASEY ABRAMS PERFORM FIRST-EVER NIRVANA SONG ON AMERICAN IDOL
After suffering from depression and addiction to heroin, Kurt killed himself in April 1994 in his Seattle home and his body was found three days after his death, Metro reports.
Article continues below advertisement
To this day, there are still conspiracy theories to the role widow Courtney had in his death. Kurt and Courtney were married in 1992 after Courtney learned she was pregnant with Francis Bean Cobain.
But Twitter fans are also attacking other celebrities in Kurt's memory Tweeting (via Metro) messages like, "I wish he could replace Justin Bieber's existence..." and "Give us back Kurt Cobain and we will send you Lady Gaga."