NEWS
Kurt Russell on Kate Hudson's Pregnancy: "We Are Pretty Excited"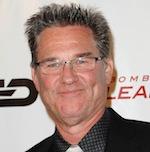 With news that Kate Hudson and boyfriend Matt Bellamy are expecting a baby, Kurt Russell gushed to OK! about the family's excitement.
"We are pretty excited about it. I guess it's going to be about 5 or 6 months. We have time to get ready for that," Kurt told reporters while out at the Living Legends of Aviation Awards on Friday.
OK! VIDEO: KATE HUDSON IS "A LITTLE BIT OF HEAVEN" IN NEW TRAILER
Kate's son Ryder, from her previous relationship with rocker Chris Robinson, is also overjoyed with having another sibling on the way.
Article continues below advertisement
"He is pretty excited about it. Chris and his wife just had a child, a year old and they have a great relationship between those two. He was very excited about that so he is excited about this, too." Kurt told OK! at the Beverly Hilton hotel.
And, while Kurt says that he hasn't heard of any wedding plans yet, he admits that Muse's Matt Bellamy will be a great addition to their family.
"He is really fun. We all enjoy him and we understand why Katie really… what she sees in him. He is a great guy."
OK! NEWS: KATE HUDSON HAS SOME FUN IN FRANCE
Kurt explains that he just loves being a grandparent so that he can take it all in.
"I love just seeing these kids and its fun having babies once again. Its fun to watch them grow and see how they are getting it and what they are grasping," Goldie Hawn's longtime partner told OK!.
But, will Kate be adding a boy or a girl into her brood?
"Well, I think secretly we are all hoping for a girl," Kurt gushed!