NEWS
Kurt Russell on A-Rod: "He's a Terrific Kid"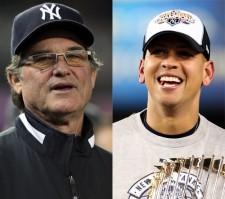 Sounds like Kurt Russell has definitely put the stamp of approval on Kate Hudson's relationship with Alex Rodriguez! "Of course, with Alex, since this summer and our getting to know him, I'm so happy for him," Kurt gushed to OK! after the Yankees won the World Series Wednesday night in NYC. "He's a terrific kid."
"He's worked incredibly hard for a long, long time and now, all questions have been put to rest for everything and hopefully he will live a wonderful life and show us things in baseball that perhaps we've never seen," Kurt adds.
Article continues below advertisement
It also sounds like Kurt and partner Goldie Hawn, Kate's mom, definitely think of A-Rod as family by now, and are behind him 100 percent.
"I think support is always a good thing from family, but Alex does what he does because hes good at it and because he's worked at it," explains Kurt. "I think that i'ts a good thing that he has a connection with some people that appreciate it with him, but this is about the Yankees," he adds about the big win. " This is what they do. It's a great thing."