NEWS
Kyle Richards Flaunts Her Flexible Figure at 'Real Housewives of Beverly Hills' Engagement Party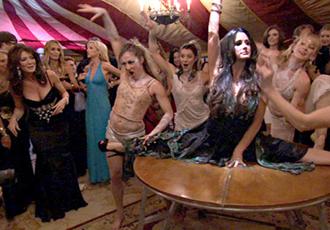 With the help of her friend Mohamed, Lisa Vanderpump threw her daughter Pandora an extravagent engagement party that surprised all the ladies of The Real Housewives of Beverly Hills.
Complete with a camel, mermaid and belly dancers, Mohamed's party featured on The Real Housewives of Beverly Hills was nothing short of over-the top.
And it was Kyle Richards who really took advantage of all that the party had to offer.
Article continues below advertisement
Getting a piece of the attention, Kyle joined the dancers and showed off just how flexible she is.
"If I wasn't scared to show my Spanks, I would do this — hold on," Kyle said.
It turns out, she wasn't afraid!
Watch the highlight video of the party, below.