NEWS
Kyle Richards Poses With President Obama; Michelle Obama's a 'Real Housewives' Fan?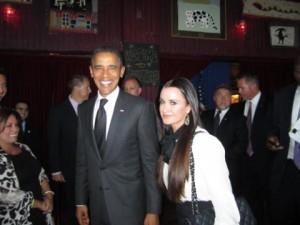 Article continues below advertisement
"I'm going to ask our President if he can do anything about my favorite lip gloss that was discontinued," she wrote. "Our maybe I will give him my suggestions for the deficit...JUST PRINT MORE MONEY."
But don't worry, she was just joking!
"Some people are taking my jokes about the lip gloss and "just print more money" seriously," Kyle Tweeted. "Hahaha!!"
And it turns out that Michelle Obama is a fan of her Bravo show!
"Yes, I know I was a little catty w/ Brandi," she wrote. "Feeling a little protective of Lisa and I'm not perfect."
"DO cringe watching the last part w/ Brandi," Kyle added. "Really was just joking around. STILL not good."
Do you forgive Kyle for her comments? Or do you think she has nothing to apologize for?