NEWS
Kyle Richards Tells Ellen DeGeneres Sister Kim Richards is "Gun Shy"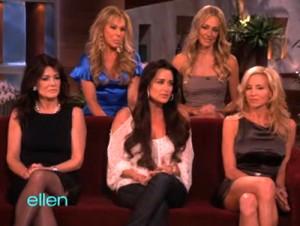 The Real Housewives of Beverly Hills joined Ellen DeGeneres yesterday on the set of her talk show, and amid all the jewels, Louboutins and plump lips something was missing — castmate Kim Richards. As Kim's feud with sister Kyle Richards rages on, it may come as no surprise that she didn't join the rest of the ladies. But Ellen tried her best to get to the bottom of it.
"So Kim's not here... Is she okay?" Ellen asked the quintet of ladies.
Article continues below advertisement
"I think she is a little gun shy now," Kyle said with a chuckle, remaining tight-lipped about her sister during the rest of the interview.
Frenemies Kyle and Camille Grammer even sat next to each other for their talk show appearance, explaining that they are just very different women, but they always seem to resolve their differences (temporarily).
Adrienne Maloof also discussed her bickering relationship with her husband, Dr. Paul Nassif, explaining its all in "good fun."
She also opened up about her husband's involvement in the Charlie Sheen 911 call last week, explaining that a woman called their house saying Charlie had severe stomach cramps and she didn't know what to do.
Article continues below advertisement
Paul advised her to call 911, and to be sure they got their right away, he called 911 himself as well.
Adrienne also shared that Charlie and Brooke Mueller married at the Maloof home.
"He has to take it day by day," Adrienne said of the troubled actor. "He is obviously going through a very difficult time."