NEWS
KYLE XY: Storyline scoop!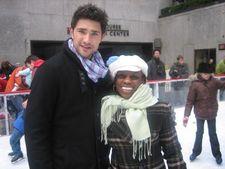 The sci-fi series Kyle XY kicks off its third season next month.
I caught up with the show's stars as we skated at the Ice Rink at NYC's Rockefeller Center during ABC Family's Winter Wonderland holiday party on Sunday.
It may have been cold outside, but the scoop on what's going to happen for Kyle's female counterpart Jessi XX, played by Jaimie Alexander, is definitely hot!
"Jessi finally gets a love life," she spilled, but wouldn't reveal if her new beau has a belly button or not. "You'll have to wait and see."
Article continues below advertisement
Jaimie also revealed that there will be "a lot more action this season," and get ready for it, a death. Shocking!
"But that's all I can tell you," she declared.
Makeouts, murder and plenty of motion? Jaimie, you've already told us a ton!
Kyle XY returns Monday, Jan 12 at 9 p.m. on ABC Family.