NEWS
Kylie and Kendall Jenner Love Being Aunts and 'Get Along' with Scott Disick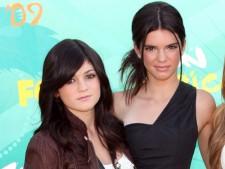 Rob Kardashian along with his sisters Kylie and Kendall Jenner dish on their older sister Kourtney's newborn baby Mason and how things are going with her boyfriend Scott Disick.
Claiming she "loves" being an aunt, 12-year-old Kylie gushed about the new addition to the family at Wango Tango on Saturday, "He's amazing! Kourtney always comes over with him! Like, lately he just started rolling over, like onto his stomach."
Article continues below advertisement
Even brother Rob couldn't stop smiling about Mason as he described the adorable baby, "He looks like an old man!"
And, while Rob doesn't know if his sister Kourtney will ever marry the father of her child Scott, he does admit that he trying to be a good dad.
"He's learning. You know, it's his first time," Rob explained to reporters.
Despite a few rocky ups and downs with Scott in the family, 15-year-old Kendall says, "We get along."
Kourtney gave birth to Mason on December 14 of last year.