NEWS
Kylie Minogue's Breast Cancer Battle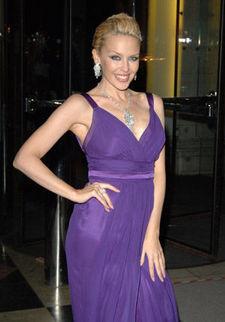 Songstress Kylie Minogue fought her cancer with a vengeance. Here's what you need to know about the disease
When women hear the words "breast cancer," panic immediately sets in. And although it was once the number-one cancer killer among women in the United States, now, with medical advances, it's actually second to lung cancer. Dr. Aman U. Buzdar, professor of breast medical oncology at the University of Texas M.D. Anderson Cancer Center, tells OK!, "If a woman develops breast cancer today, she has a much better chance of living a life free of cancer than five or 10 years ago because of the treatments which are available." Sheryl Crow, Melissa Etheridge and Kylie Minogue have all battled the disease and won. Like many women, Sheryl thought, "It doesn't run in my family. And I've always worked out and been fit so I figured I'd never get sick." Sheryl is proof that you could be a healthy, strong individual with no family history and still be diagnosed with breast cancer.
Article continues below advertisement
Protect yourself
We'd all love to think that there is a magic potion to help ward off the disease. And although family history plays a role, Dr. Christy A. Russell of the Breast Cancer Advisory Group for the American Cancer Society says, "Most women do not have a family history of breast cancer." Just being a woman increases your risk of breast cancer immensely. And, she continues, "There is very little that you can do to protect yourself from getting breast cancer. What you can do is maintain a healthy body weight, get lots of aerobic exercise and avoid alcohol." Dr. Buzdar adds that you shouldn't consume more than 30 percent of your calories from fat. Although there is no miracle fruit, eating nutritious meals and avoiding high-fat foods can help decrease your chances of developing the disease.
Making progress
Continuous strides are being made to battle breast cancer. With Hollywood on board trying to raise money for a cure, doctors have been able to make a lot of progress. According to Dr. Buzdar, "Chemotherapy is needed in a significant amount of cases because the chemotherapy is very effective in cutting down the risk of recurrence." But, he assures, it's not the only treatment. There are also hormonal and biological treatments in addition to surgery and radiation. So in comparison to years ago, when women had to fear a mastectomy, "I think patients are more at ease now when they know that the likely treatment isn't going to be a huge invasive surgery," he says.
Article continues below advertisement
Regular checkups
Early detection is essential. If you catch a tumor when it's small, you have a lower risk of recurrence. Dr. Buzdar tells OK!, "The key thing is to do self breast exams and get mammograms after 40." Your doctor can determine if you are high-risk by taking into account your age, when you started menstruating, at what age you had your first child and other factors. Dr. Buzdar says that doctors "can calculate what is the risk of a given woman developing breast cancer in the next 10 years." So if you haven't started talking to your doctor about this disease, start now.
Risk Factors
Menopause According to Dr. Buzdar, a majority of breast cancer cases occur after women have gone through menopause and are over the age of 55. On the upside, a newly diagnosed patient today has about a 70 to 80 percent chance that she
will live a cancer-free life after the appropriate treatment.
Estrogen To combat hot flashes, menopausal women used to resort to hormone-therapy treatments and take estrogen supplements. "There's no question that the use of estrogen for a prolonged period of time increases the risk of a woman developing breast cancer," says Dr. Buzdar.
Article continues below advertisement
Lifestyle For unknown reasons, living in a Western country is a risk, as incidences of breast cancer are much higher in the Western world than in Asian countries. This could be due in large part to the food that we eat. Evidence has shown that women who stick to a diet with less than 30 percent of their calories coming from fat have less of a chance of their cancer coming back.
Periods How young you were when you got your first period may play a role. If you started your period at an earlier age, your breast tissue has been exposed to more fluctuations in estrogen levels and that is a risk factor, according to Dr. Buzdar. Delaying pregnancy may also create a higher risk, but whether or not breast-feeding plays a role is still up for debate.
Early Detection Is Vital
One person is diagnosed with breast cancer every 3 minutes in the U.S., but there is over a 97% five-year survival rate when localized breast cancer is caught before it spreads to other parts of the body. For the general population, Susan G. Komen for the Cure recommends a yearly mammogram starting at age 40; a clinical breast exam at least every three years between the ages of 20 and 39, then annually starting at age 40; and a monthly breast self-exam beginning at age 20.
Article continues below advertisement
For more about breast cancer research, treatments and other information:
American Cancer Society
(800)ACS-2345 (800-227-2345)
www.cancer.org
Avon Breast Cancer Crusade
www.avoncompany.com/women/avoncrusade/
Breastcancer.org
www.breastcancer.org
CancerCare
(800) 813-4673
www.cancercare.org
Living Beyond Breast Cancer
(610) 645-4567
www.lbbc.org
National Breast Cancer Coalition (NBCC)
(202) 296-7477
www.natlbcc.org
The National Cancer Institute
(800)-4-CANCER
www.cancer.gov
National Coalition for Cancer Survivorship (NCSS)
(301) 650-9127
www.canceradvocacy.org
Susan G. Komen For The Cure
(800) IM-AWARE (800-462-9273)
www.breastcancerinfo.com
Y-ME National Breast Cancer Organization
(800) 221-2141
www.y-me.org