NEWS
Kym Johnson's DWTS Diary: Donny's Milkshake is Better than Yours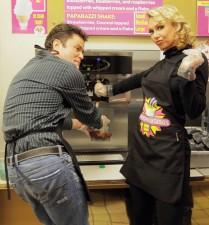 Dancing with the Stars pro Kym Johnson has teamed up with OK! to update you every week on the triumphs and travails as she attempts to turn her celeb partner Donny Osmond into a ballroom champion!
Hi, everyone! Welcome to week eight of my OK! blog. Well, the competition really heated up this week after last week's shocker when Tom DeLay had to leave due to his foot injuries and then Debi Mazar was eliminated. There were only 11 couples left, so Donny and I knew we'd have to bring our A game to one of the most fast and furious dances ever, the Charleston!
Article continues below advertisement
On Monday night, we had a blast during our performance. And I made sure of it, as I turned to Donny right before our dance and said, "Let's go have fun!" Our Charleston went exactly the way I envisioned it. The audience seemed to enjoy the dance and we appreciated the judges' comments. Donny is doing so well and holding his own with me; the steps were really complicated but he was doing exactly what I was doing. Donny was pleased because someone complimented us backstage on being in unison; that was our goal and it looks like we achieved it!
Donny and I were happy it worked out, because we had some rehearsing bumps in the road. We thought the jive was physically exhausting earlier this season? The Charleston takes the cake! Also, Donny fractured the middle toe of his right foot while doing his show in Las Vegas this week. He kicked a prop onstage — he meant to kick it with his heel, but hit it with his toe instead. He didn't want to make a big deal out of it, because that's Donny, but we did have a shorter amount of time to rehearse this week because of his toe problem. Donny's the ultimate professional and just put up with it. It was a little stressful in terms of our rehearsing, but during our performance, Donny didn't let it bother him. He just taped his toe and did the dance.
Article continues below advertisement
Donny's sister Marie is so excited about his success on the show. Monday night, Donny told me Marie, a former DWTS competitor, gave him dancing lessons after they performed their Donny and Marie show in Vegas.
While Donny got a couple of tips from his sister, I did everything I could to research the Charleston. I found all the traditional moves demonstrated on You Tube and put them all into our routine. My other inspiration was the 1960s movie Thoroughly Modern Millie. Also, my mom used to do the Charleston, so she gave me advice over the phone from Australia.
Donny performed a few Charleston moves when he was about 15 for a TV show but he never danced it like we did Monday night! Luckily, I'd done the Charleston before in some dance recitals when I was a kid and tap, which is my favorite dance, is similar to Charleston. I put a few tap moves in there as well. It took us both back in time a bit to our youth, which was fun.
After our performance Monday night, Donny and I had milkshakes named after us at the hot new Millions of Milkshakes shop on Santa Monica Blvd. in L.A.. Mine's named The Kym Johnson Java Jive and it's vanilla ice cream with coffee because I love coffee. It's pretty plain but I like things quite simple. Donny's milkshake is a chocolate concoction called Donny's Decadence.
Article continues below advertisement
Last week, as my blog picture shows, I went to the Coco De Ville nightclub in Beverly Hills, CA to help celebrate Mya's birthday. Donny's family was in town, so he stayed with them. It was nice to hang out with Mya and bond on a social level. She's been amazing in the competition, and I was a huge fan of Mya's singing before she even joined DWTS. I love her music; she was one of the celebrities I was really excited to meet when I found out who was in the cast this season. She's definitely been the frontrunner so far; she hasn't had a bad performance and I don't think she will.
Well, that's all for now. We appreciate all your votes. I'll talk to you next week!