NEWS
Kym Johnson's DWTS Diary: My Dress Mess Debacle!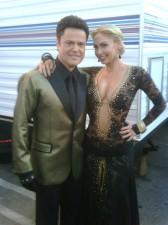 Dancing with the Stars pro Kym Johnson has teamed up with OK! to update you every week as she attempts to turn her partner Donny Osmond into a ballroom champion!
Hi, everyone! Welcome to week 13 of my Dancing with the Stars blog!
Of course as you loyal DWTS viewers know by now, Donny and I had probably our most difficult night ever on the show. I'm always honest with you, and I wish we had the chance to do our first dance, the tango, all over again because it just unraveled — along with my dress. I don't know how or when my dress started coming undone but that little hiccup affected the rest of the dance. I felt terrible! Donny did admit to the judges, and later to reporters, including OK!, that seeing his sister in the audience also distracted him. He so badly wants to be in the finals, like his sister, who finished third two years ago on DWTS. But I blame my wardrobe malfunction for starting us down the wrong path! It was gut-wrenching. I mean, it's the semifinals and it's make or break and we only wound up with a score of 21.
Article continues below advertisement
During the dance, I tried to tell Donny what to do, hoping to get us back on track. Donny at one point said to me that he was so disoriented, "I don't know where I am!" He later joked, "I think I was in Cleveland at that moment." How he can keep such a great sense of humor is amazing. His other strength is perseverance and it got us through the night.
After our tango, both of us were determined to move on, and redeem ourselves, and we did. We knew we really had to come back and be confident with our second dance, the samba. We told each other backstage, we can do this. The audience was behind us and that really helped, as did our song choice of "One Bad Apple." Donny recorded that song when he was just 12 years old!
We got the highest score on our last dance, the jitterbug. Donny and I felt so full of adrenaline we could have done that dance five more times. We were thrilled to get three nines from the judges. Mission accomplished on our comeback!
This week was all work and no play for me, but of course I loved it because Donny and I made it to the semi finals! I always knew Donny had great potential to make it to the final four, but you never know how it will pan out on DWTS. Donny and I were sorry to see Aaron Carter be eliminated last week. Donny and Aaron formed a special bond, because both of them have been teen idols. I'm sure they've made a friendship that will last a lifetime.
Article continues below advertisement
There wasn't much time for me to do anything else this week except dance, dance, dance! When I wasn't rehearsing with Donny for the show, I was rehearsing with Maks Chmerkovskiy, getting ready for our Broadway show, Burn the Floor. We were set to rehearse again Monday night after the show, and then again Thursday and Friday, when Maks will accompany me to Las Vegas. While Donny does his Vegas show, Maks and I can work out our "Burn the Floor" moves.
I also am pleased to announce that I launched my own web site. You can keep track of everything I'm doing on kymjohnson.tv. But be sure to keep reading my OK! blog until the show is over, of course!
I'm thrilled that I also have two DWTS-related fitness DVDs coming out Dec. 1: Dancing with the Stars: Dance Off the Pounds and Dancing with the Stars: Dance Body Tone. I shot these with my fellow DWTS pros Lacey Schwimmer and Dmitry Chaplin. I hope you'll consider giving them a try. They'd make an especially good holiday gift — and I must say, would fit nicely in a stocking.
As for me, well, I admit it would be nice to have that shiny DWTS mirror ball trophy under my tree. The elimination show will be very tough tonight note: Tuesday and anything could happen, but thank you again for all your support and if we make it through, Donny and I promise to give it all we've got in the grand finale. Talk to you again soon!