NEWS
Kym Johnson's DWTS Diary: We're Making a Comeback This Week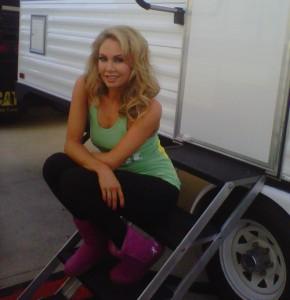 Hi, everyone, and welcome to my OK! blog! I'm so excited to be back for a new season! Every week, I'll share all my behind the scenes stories as I take David Arquette from dapper actor to ballroom great on this season of Dancing With the Stars. So glad you'll be joining me!
I was a little upset by the judges' reactions last week, David really puts his personality out on the dance floor, and I think he did a really good job. Maybe the technique wasn't there so much, and the judges are there for a job and a reason, and I think they did give him some constructive criticism. We took what they said to heart this week, and we were lucky enough to survive elimination. It was HORRIBLE to be in the bottom two, and hopefully we won't be there this week, but you can only do your best. So we'll see!
Article continues below advertisement
OK! NEWS: DAVID ARQUETTE TEASES NEXT DANCING WITH THE STARS PERFORMANCE — "JUST BARE NAKED"
A lot of fans really enjoyed the routine. Hopefully people will vote. David's a big movie star so maybe people thought he was safe and thought they didn't need to vote. It's been a tough week, I think David was disappointed nearly being eliminated because it was the actual bottom two so it wasn't a great feeling. It's always hard to come back and get your motivation back up again, so it's been a bit of a tough week but I'm really happy with the dance we've got and I think we can make a comeback.
It's personal story week as well, we're doing a dance about your most memorable year, and they pick a song that means something to them, and why this year's been special to them. So I'm glad we got to survive this week because David's story is very touching and emotional and I'm glad he'll get to share it with everybody.
They just showed a little bit of us in video last week, having a moment, but we get along so well. It looked like it was more tense than it actually was. You go into a minute in a day when you're like. "Come on, you need to focus," but we're with each other seven hours a day and they show a minute of what you're rehearsing. David works so so hard, he really does. He puts so many hours in and he's taking this really seriously. I'm hoping we can pull it together today and hopefully the fans enjoy what we do and vote for us.
Article continues below advertisement
We've got the rumba. It's going to be beautiful, it's going to be a really sweet dance. The rumba's a really difficult dance to do, especially for the men, because they have to move their hips so much, and it's very foreign to a lot of the celebrities to do this form of dance. It's a difficult one but we've got a really good dance and I'm really proud of it. I didn't vote for myself last week but I'm going to tonight for sure!
Remember to vote for David and I tonight!
Kym