NEWS
Lady Antebellum Shares Tour Favorites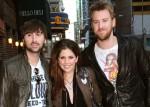 With Need You Now being certified as a crossover hit, Lady Antebellum is days away from hitting the road with Tim McGraw. But first, they brought their Grammy, CMA and ACM award-winning routine to NYC for a sold-out show held Monday at Nokia Theater.
Wearing a sparkly diamond cuff, singer Hillary Scott along with bandmates Charles Kelley and Dave Haywood mesmerized the crowd with selections including Love Don't Live Here, Perfect Day, Love's Looking Good On You, All We'd Ever Need, their Luke Bryan collaboration Do I and American Honey before treating fans to a striking version of their smash Need You Now. The excitement was palpable as whoops and cheers enveloped the audience.
Article continues below advertisement
"The best thing about it is seeing the size of our shows double," Charles says backstage. "And the minute that song starts, to hear the cheers -- that's what we've always dreamed about."
He adds, "This song almost did not make the record. When we played it for the producer, the A&R staff, when they heard it, they said 'now that's something special.'"
Hillary says, "We were like 'really?!'"
Because Lady A's success didn't happen overnight, getting along while touring comes easy for the trio who formed in 2006.
"No one ever said we didn't get on each other's nerves, but we can escape away to our bunks," Hillary, who is the daughter of Grammy-winning singer/songwriter Linda Davis, tells me. "And we know how hard to push each other. We all respect each other first, and we're all friends first. If you have that foundation, you're going to be OK."
Dave says, "We've also known each other long enough to know when someone's in a mood and when they're not and why."
Article continues below advertisement
Hillary adds, "We know how to read each other."
How do they wile away their time getting from city-to-city?
"We spend so much time on a plane or a bus, and it's always good to pass the time with seasons of TV shows on DVD," Hillary tells me. "On the bus, we watch a lot of The Office. We watch Entourage, we watch Eastbound and Down."
Dave yuks, "I'm trying to get them into Mad Men."
The trio launched their careers by opening for Carrie Underwood, Taylor Swift, Martina McBride and Kenny Chesney.
Hillary fondly remembers the catering on the Martina tour.
"It was this catering company out of Knoxville, they're called Dega," she says. "They traveled with us. It felt like you were in a four-star restaurant. Organic, they had an industrial juicer. That was one thing that Martina felt so strongly about – making sure that everybody stays healthy and happy. Whenever you're well-fed, you're healthy and you're happy."
Article continues below advertisement
They each had their favorite Dega dishes.
"They always had good soups and salads," Hillary says. "I would normally fill up on those."
Dave remembers, "Seared scallops with prime rib au jus."
While the country trio may seem like their demeanor couldn't be further from Heidi Montag, Audrina Patridge and Kristin Cavallari on The Hills, there is a connection.
Lady A teamed up with Charles's brother, singer-songwriter Josh Kelley, who is married to Katherine Heigl, along with Alexa Wilkinson, and recorded a tune called Miles Away, which was featured on the MTV reality show in 2007.
"All my friends loved that," Hillary says. "We Tivo it."
These days, Lady Antebellum's voiceover greets visitors when they arrive at Nashville airport. No big deal, though. Fame isn't as all-consuming as it seems.
"We've been so busy this year, and our heads have been down so much that we don't feel it as much as everyone thinks we probably feel it," Charles tells me. "I still think it takes a long time for people to connect the dots. It does. But with every few months that go by, we feel it a little bit more, but we have a long way to go. We hope to keep making fans."
Here's my pic with the group:
Catch Lady Antebellum performing with Tim McGraw beginning Thursday in North Charleston, S.C. And, catch them performing June 10 during the CMA Music Festival in Nashville. All proceeds from the three-day festival also featuring Carrie Underwood, Tim McGraw and Brad Paisley benefit flood relief and music education in Middle Tennessee.