NEWS
Lady Gaga Banned from NY Yankees Clubhouse?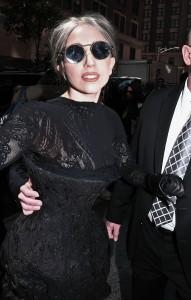 Lady Gaga made an appearance at the NY Yankee's game on Friday and, according to new reports, her inappropriate behavior almost got the performer banned from the players' clubhouse in the future.
According to the Huffington Post, Lady Gaga was clearly intoxicated at the actual game and made matters worse when she continued to down Jameson Irish Whiskey inside the players' clubhouse.
The 24-year-old was scantily clad in fishnets, undergarments and a Yankees jersey that did not leave much to the imagination.
Article continues below advertisement
LADY GAGA TWEETS OFF METS GAME FLIP-OFF
According to the NY Post, she was, "groping her chest over her jersey," and slurring her words while inside.
And, although she did get to meet team member Alex Rodriguez, Gaga had no permission to be in the clubhouse in the first place.
The NY Post reports that the singer is no longer welcomed in the private area, but the Yankees General Manager Brian Cashman told E! Online otherwise.
"She's not banned. Celebrities aren't banned...It's been taken care of," Cashman told E! Online on Sunday.
Gaga also made a scene at a recent NY Mets game, where she flipped off photographers.