NEWS
Lady Gaga Beats Justin Bieber to the 10 Million Twitter Followers Mark!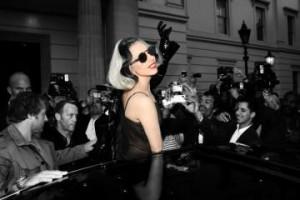 The Mother Monster has surpassed another Twitter record! Lady Gaga has been crowned the first singer to reach 10 million followers on the social networking site, beating out pop sensation Justin Bieber for the title.
"10 MillionMonsters!" Gaga Tweeted of the victory, complete with a picture of herself rising above a sea of paparazzi. "I'm speechless, we did it! It's an illness how I love you. Leaving London smiling."
Article continues below advertisement
As of this afternoon, Gaga has accumulated over 10,067,092 followers, while The Biebs remains steady at 9,677,376 as he continues on the Japan leg of his "Never Say Never" world tour.
It doesn't look like the Gaga/Bieber Twitter battle will end any time soon. She has been edging out The Biebs for a while now, but don't underestimate the power of Beliebers... or Little Monsters!