NEWS
Lady Gaga Beats Out Justin Bieber; Hits 1 Billion YouTube Views!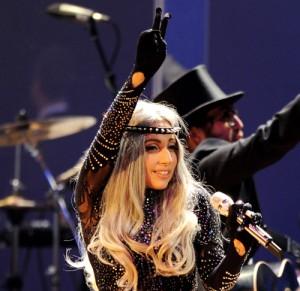 Lady Gaga now reigns another realm of the interweb. Not only does she have the most Twitter followers — beating out Britney Spears with close to seven million tracking her Tweets— but now Gaga has officially taken the crown as the first artist to reach one billion views on YouTube!
Gaga made sure to Tweet thanks to those who helped her reach another milestone — her little monsters of course!
OK! GALLERY: GRAY-HAIRED LADY GAGA GREETS SILVER FOX ANDERSON COOPER
Article continues below advertisement
"We reached 1 Billion views on youtube little monsters!" she Tweeted. "If we stick together we can do anything. I dub u kings and queens of youtube! Unite!"
Justin Bieber is hot on Gaga's heels, with more than 962 million views, according to MTV News, and it is projected Bieber Fever will reach 1 billion around Nov. 1.
Gaga averaged almost 1.8 million views per day in September, while Bieber averaged around 3.7 million views per day in September, MTV News reports.