NEWS
Lady Gaga Dons Bedazzled Head Gear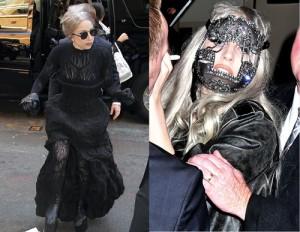 Lady Gaga arrived at Carnegie Hall last night, more covered up then usual. The "Bad Romance" singer performed at a benefit for the Rainforest Foundation's 21st Birthday celebration last night in NYC, taking the stage with Sting, Sir Elton John and Bruce Springsteen. Her outfit as she departed the concert was much more Gaga-esque.
OK! GALLERY: LADY GAGA SWANS ABOUT SWEDEN IN HER SKIVVIES
Gaga sported a bedazzled Hannibal Lecter-type mask as she left the benefit and signed autographs for fans on her way out!
Article continues below advertisement
Her high-fashion Erickson Beamon mask is part of the Dutchess of Fabulous collection designed by Michigan natives Karen and Eric Erickson, and Vicki Beamon.
For those who are goo goo over Gaga's mask, it is available by special order at Beyond 7 boutique in NYC.
Gaga also wasn't wearing pants with her mask ensemble — similar to her style in Sweden earlier this week.
The singer is very devoted to her fans and made a special shout-out on the Ellen DeGeneres Show yesterday to the sixth-grade singing sensation, Greyson Michael Chance, for his cover of "Paparazzi" which has gone viral on YouTube.
Leave it to Gaga to support all her little Monsters!