NEWS
Lady Gaga: I'd Rather Die Than Look Normal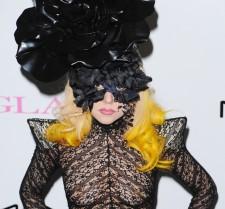 Lady Gaga takes her bizarre outfits so seriously that she'd "rather die" than be seen without wearing one of her distinctive bizarre outfits.
"I would rather die than have my fans not see me in a pair of high heels. I would never give up my wigs and hats for anything," she said on a UK television interview.
OK! NEWS: LADY GAGA TRIES TO OUT-GAGA HERSELF
She feels it is important for celebrities to maintain an air of mystery. "You see legendary people taking out their trash — I think it's destroying showbusiness," says the kooky singer, whose real name is Stefani Germanotta.
Article continues below advertisement
Describing herself as "an outcast from the music industry" she also paid tribute to designer Alexander McQueen, who died last month. "He was the kindest human being. I am left with nobody to inspire me any more."