NEWS
Lady Gaga, Justin Timberlake, Alicia Keys & More Take a Hiatus From the Web to Raise Money for Aids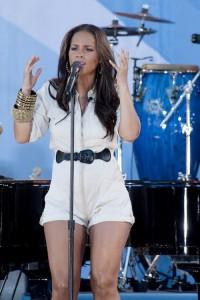 Although Facebook and Twitter are good ways to spread positive messages for charity, celebrities are taking a different stance by going on a short hiatus from the web for the Digital Life Sacrifice, according to new reports.
Lady Gaga, Justin Timberlake, Alicia Keys, and Ryan Seacrest among others will stop using their social media accounts until $1 million are raised to support Alicia's charity, Keep a Child Alive.
Article continues below advertisement
The Digital Life Sacrifice will begin on Dec. 1 to raise awareness for World Aids Day.
OK! NEWS: REPORT: ALICIA KEYS GIVES BIRTH TO BABY BOY
"This is such a direct and instantly emotional way and a little sarcastic, you know, of a way to get people to pay attention," Alicia told the AP via E! Online.
Usher, Khloe Kardashian and Kim Kardashian will also be participating in the venture.