NEWS
Lady Gaga Lets Her Hair Get in the Way of Fashion Choices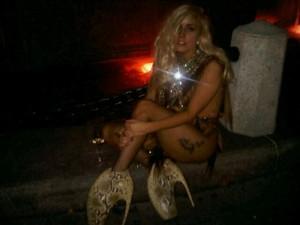 Lady Gaga loves to keep everyone guessing with her outlandish fashion choices. First it was meat, now hair! The icon's most recent jaw-dropping ensemble consisted only of a cape made out of hair.
Only weeks after sporting a meat dress to the VMAs, Lady Gaga went out to an NYC club, scantily clad in a cape made of hair and fishnet stockings!
Her look was completed with python Alexander McQueen, sky high pumps.
Article continues below advertisement
"Lonelydreams+champagne streams,plaza courtyards, I can't swim among them, so ill drinkinstead a star" Gaga Tweeted along with the picture of herself in the hair getup.