NEWS
Lady Gaga Warns "Little Sweethearts" on 'Howard Stern' That Cocaine is "the Devil"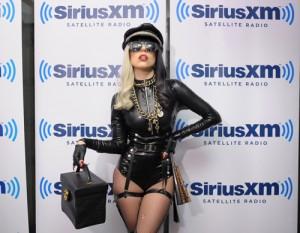 Article continues below advertisement
"What boyfriend? ... Who's Jean Luc?" she joked to Howard (via MTV News). "It's hard to find a boyfriend who doesn't mind a good tuck," which is another joke in reference to rumors about her gender.
"My first love is music," she explained, and when Howard asked her whether she's been intimate with anyone recently Lady Gaga laughed and said, "I got laid last night... the guys who are here are my best friends in the whole world. You're talking about Lüc Carl; he's been my best friend since I was 19."
So, nothing confirmed on whether Lady Gaga has a boyfriend or not.
Instead, Howard moved on to talk about drugs, which Lady Gaga really regrets using.
"To any little sweethearts that are listening... don't touch cocaine, it's the devil," she said.
OK! GALLERY: LADY GAGA KEEPS IT CLASSY WHILE ARRIVING IN LAX
And Lady Gaga used to use drugs as a way to get inspired to write songs, but now she has a different tool.
"I think that I was lonely and there was something about the drug that made me feel like I had a friend... and I regret every line that I ever did," she said. "Whatever my vagina whispers to me, I say yes... inspiration, it doesn't come all the time."
And Lady Gaga also gave a performance of "The Edge of Glory" on Howard's show.
"It's about also knowing in your heart that you may never reach that glorious moment until you die, so live life on the edge — halfway between heaven and hell — and let's all dance in the middle in purgatory," she said of the song before playing a version of it on the piano.