NEWS
Lady Gaga Wasn't Worried About Crowd Surfing Nearly Naked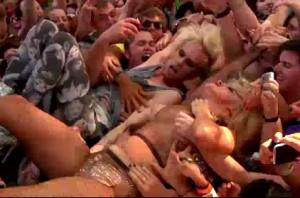 Lady Gaga's crowd surfing at Lollapalooza in Chicago last week got quite a bit of attention, which may have been due to her attire, or lack thereof. So, what was Gaga thinking? Well, she really wasn't thinking!
OK! GALLERY: GAGA SHOWS OFF HER STUDDED BRA BRA
Lady Gaga admitted she didn't put much thought into her decision to crowd surf or had much concern about what she happened to be wearing — she just knew she wanted to do it!
Article continues below advertisement
"I was so excited 'cause I haven't crowd surfed in a long time 'cause no one lets me anymore," Gaga said on Ryan Seacrest's radio show. "It was great," she continued. "I love Semi Precious so much and they're my band ... I don't know what came over me. I just got so excited and I remember playing that stage and what it felt like and they were doing such a great job... I just jumped."
Perhaps Lady Gaga was just in the mood to celebrate since the overturning in California of Prop 8!
"I felt like it was a revolution, a gunshot went off. It was so exciting when it happened. For me, it was a moment that indicates it can happen in every state now," Lady Gaga said. "I was so happy, and I went right into the studio and I kept writing. My album kind of is done, but I can't stop writing music. I don't know what I'm going to do. I might have to put out two records."