NEWS
Lady Gaga's Advice to Scotty McCreery: "Get Right in the Center of That Hot Dog"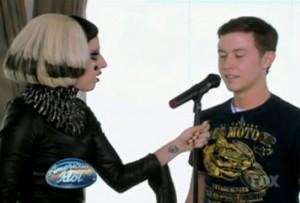 Lady Gaga spiced up American Idol last night as celebrity mentor to the final four contestants. And her advice to Scotty McCreery was definitely the most bizarre, yet eye-opening for the young country crooner!
Jimmy Iovine may have summed up their meeting best when he said, "Scotty McCreery. Lady Gaga. I couldn't think of a better fit."
Article continues below advertisement
While they both may be on opposite ends of the spectrum, Scotty tried his best to heed Gaga's advice with a lot of awkward laughing and smiling — but he handles it well!
Gaga's biggest concern for Scotty was his movements away from the microphone while he sings, causing his tone to get lost.
"You have to get right in the center of that hotdog," Gaga told Scotty of singing directly into the microphone. "That's your girlfriend and she says to you, 'If you don't stick your tongue down my throat, we're through.' So keep your mouth on that microphone like your life depends on it or that b**** gonna leave you."
Scotty's advice was a bit too outrageous, and led him to kiss the cross on his neck!
"I just felt like I needed to kiss my cross to say 'Lord this is not my doing,' " Scotty shared.
Later, Gaga added, "Apparently, he's a bit more conservative than I had imagined."
Watch Gaga's advice to Scotty in the clip, via TV Squad, below! It looks like it certainly helped him loosen up for "Youngblood."
Catch Scotty's two performances from last night. How do you think he did? Will he sail to the top two? Sound-off in the comments!
"Where Were You When the World Stopped Turning"
"Youngblood"