NEWS
Lady Gaga's Choreographer Laurieann Gibson On How She Gets That Bod!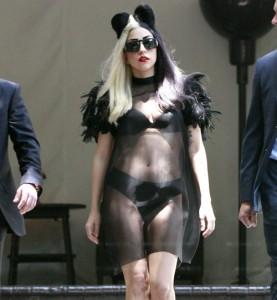 When it comes to baring her body, Lady Gaga seems to stick to the motto that if you've got it, flaunt it. So just how does the pop star keep her body in stripped-down shape? Along with a strict workout, Gaga keeps her catering and craft services gluten-free.
OK! GALLERY: LADY GAGA SHOWS OFF IN SHEER WHILE LEAVING HER WEST HOLLYWOOD HOTEL
"Everything's just healthy," says Laurieann Gibson, Lady Gaga's choreographer and creative director, who's gained her own fame with her E!'s reality show, The Dance Scene. "It's like gluten free, tuna, protein. There's no M&M's, there's no gummy bears. There's cheese, there's water, there's fruit, there's vegetables – the only indulgence might be the cheese and grape platter. But other than that, it's like wheat crisps."
Article continues below advertisement
OK! NEWS: LADY GAGA MOURNS AMY WINEHOUSE'S DEATH — "SHE OPENED THE DOOR FOR GIRLS LIKE ME"
Gaga doesn't just worry about her own diet – she also makes her dancers keep the same strict regimen as well. Gaga's a workaholic and she doesn't want gluten and bread bloating or weighing down her dancers.
"All the dancers are now gluten free," Gibson tells OK!. "There's like gluten free desserts – I'm like, where am I? … I can't find a snack that I like in there. Everything is so healthy!"
Along with watching her diet, Gaga works out for hours dancing or doing yoga to keep her body toned.
OK! GALLERY: LADY GAGA REKINDLES OLD LOVE, TRAVELS BIG APPLE WITH EX
"Based on how I developed her, she has absolutely pushed her stamina and has defined her muscles in areas and every night and at that level, it definitely re-sculpts and reshapes your body," Gibson says. "Lady Gaga's dancing in every number. She's really the hardest working artist in the business and those dancers are truly dancing."
Maybe if we all had professional trainers and caterers we'd look as good as Gaga — it's a full time job to look hot!