NEWS
Lady Gaga's Favorite Little Monster — Willow Smith!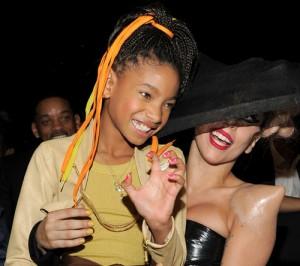 Looks like Willow Smith met one of her idols last night. The talented young singer got up close and personal with Lady Gaga during the live Grammys 2011 ceremony, sitting on the "Born This Way" singer's lap and learning some important lessons — like how to do the famous Little Monster's hand gesture! Rarr! Will Smith and Jada Pinkett Smith watched Gaga and Willow laughing and seemed very happy about the duo's interaction.
Article continues below advertisement
Willow is only 10, but she already knows how to express herself through fashion like her idol, Gaga!
Gaga hit the red carpet in a large egg, waiting in incubation until her performance. She also won three Grammys, including Best Pop Vocal Album for The Fame Monster, Best Female Pop Vocal Performance and Best Short Form Video for "Bad Romance."
We bet Willow has a bunch of Grammys in her future!