NEWS
Laila Ali: My Son Will Not Be a Dancer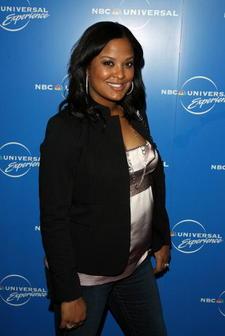 Laila Ali already has big plans for her unborn son – and they don't involve Dancing with the Stars!
The professional boxer, who finished third in season four of the ABC hit, and her husband, NFL star Curtis Conway, are expecting a boy, to be named Curtis Muhammad, in September, and she hopes his sporty genes will steer him anywhere but to the hardwood floor.
"I want him to be an athlete," Laila tells OK!. "I did Dancing with the Stars, but my life doesn't revolve around it. I think that when I say athlete, I mean a serious athlete."
Article continues below advertisement
Perhaps American Gladiators will be a better fit for little Curtis. Laila co-hosts the NBC revival of the 1990s classic and can't dream up a more perfect gig for herself.
"It's a competitive show with a live audience that brings a lot of energy, and it's what I'm used to," she explains. "It was perfect for me, and I'm having a really great time with co-host Hulk Hogan."
While most women like to take it easy during their pregnancy, the 30-year-old spent it working on season two of Gladiators, which is fine with her as her first trimester was a breeze.
"I'm so blessed," she says. "I've heard so many horror stories, but I don't have any morning sickness, nausea or cravings."
But there is one thing she has to fight off on set – the desserts!
"It's a little harder because there are five different kind of desserts a day, but that's hard for anybody."
By Alisandra Puliti