NEWS
The Lamas Sisters Let Loose for the Holidays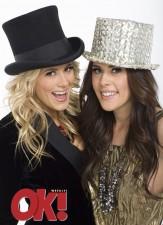 Sisters Shayne Lamas and Dakota Pike may have a lot of drama on their E! network reality show Leave It to Lamas, but they help each other remain grounded. "Dakota and I are really lucky to be best friends. We really have each other's backs," Shayne told OK!. After her Nov. 14 arrest in Venice, Calif, on suspicion of DUI (court date Dec. 9), the support of her sister was very important. The girls joined OK! at L.A.'s Miauhaus Studios, where they talked about their hectic lives while trying out the hottest fashions for the holidays!
Article continues below advertisement
Now, about that DUI incident...
SL: It was a total nightmare. I'm not one of those party girls. It's so embarrassing
DP: She only had one drink — and weighs 110 pounds, you know what I mean? It's just unfortunate that she had to go through that, but you live and you learn and don't make the same mistake!
You guys are so close — it's great to see.
SL: Yes, when we film together on Leave It to Lamas, that's always the best, because between us there's never any drama, nothing shocking happens, like with my brother.
And we hear you guys are travelign together for the holidays.
SL: Yes, we are taking a much-needed vacation and going to Hawaii — Waikiki, Honolulu. We want to go and shut out phones and take a step back from the chaos — and hike and surf!
What must-have items are you taking on the plane?
DP: My iPod and ChapStick. Also, a pillow, socks, a magazine...
OK!?
DP: Exactly!
SL: I am addicted to eye goggles with sponges inside, and you add a little bit of eye cream, because when you fly, your eyes get all dry. And a good book!
Shayne, do you have any advice for fans who want to get behind the wheel after a holiday part?
SL: One drink is too many!
CHECK OUT THE GALLERY FOR THE GIRLS' GUIDE TO HOLIDAY FASHION!