NEWS
Lance Bass Congratulates Clay on Coming Out!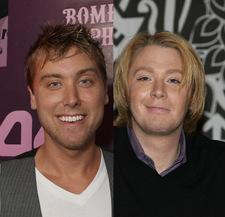 Following in the wake of the not-so-shocking confirmation from singer Clay Aiken that he is indeed gay, OK! spoke to openly homosexual former N-Sync member — and current Dancing With the Stars competitor — Lance Bass to get his reaction to the news.
"It's great!" Lance told OK! at Tuesday night's live DWTS broadcast. "I'm so happy he's finally going to be happy with himself and share that with the world."
Article continues below advertisement
Additionally, Lance, who famously announced his sexual preference in July of 2006, told OK! that a declaration like Clay's is beneficial for everyone. "I think that's so necessary for people to see," he explained. "It's good for the world."
Clay's announcement comes after years of speculation and rumor about his sexuality. Since rising to stardom as the runner-up on the second season of American Idol, the North Carolina-native had avoided answering direct questions on the topic.
On Aug. 8, the Spamalot star welcomed his first child, son Parker Foster Aiken, with best friend, music producer Jaymes Foster. After the birth, Clay confirmed that he and Jaymes were not romantically involved but would raise their child together.
By Carole Glines