NEWS
Lars Von Trier Banned From Cannes Film Festival for His Adolf Hitler & Nazi Comments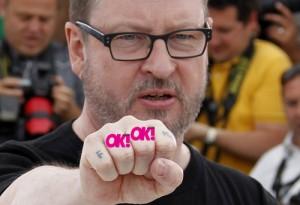 Danish director Lars Von Trier has been banned from the Cannes film festival after he said he "sympathizes" with Adolf Hitler and is a Nazi during a press conferences for his film, Melancholia.
OK! GALLERY: KIRSTEN DUNST CELEBRATES MELANCHOLIA AT CANNES FILM FESTIVAL
According to the AFP (via The New York Post), the festival said in a statement that the board of directors for the festival "very firmly condemns these statements and declares Lars Von Trier persona non grata at the Cannes festival, with immediate effect."
Article continues below advertisement
However, Melancholia, starring Kirsten Dunst, would remain in the competition.
"I really wanted to be a Jew and then I found out I was really a Nazi which also gave me some pleasure," Lars said on Wednesday during a press conference for the film. "What can I say, I understand Hitler. I think he did his wrong things … but I understand the man. He's not what you would call a good guy but I understand him, I sympathize with him."
The reporters and Kirsten sitting next to him seemed to be very uncomfortable by the statements.
"I'm not against the Jews," he added. "I am of course very much for the Jews. How can I get out of this sentence? OK, I'm a Nazi."
OK! VIDEO: WATCH KIRSTEN DUNST SHOOT ELECTRICITY OUT OF HER FINGERS IN MELANCHOLIA TRAILER
But Lars apologized for his comments later on Wednesday, according to the AFP.
"If I have hurt someone this morning by the words I said at the press conference, I sincerely apologize," he wrote in an email. "I am not anti-Semitic or racially prejudiced in any way, nor am I a Nazi."
Even before he was banned, Lars showed off an expletive written across his fingers during a photo shoot for the film with his cast.
Do you think Lars deserved to be banned? Do you still want to see his new film?
Watch the press conference below!