NEWS
The Last Word with Biggest Loser's Alison Sweeney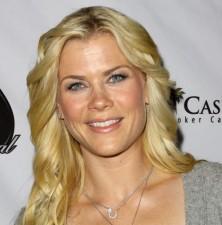 The Biggest Loser host, 33, tells OK! which tennis star she finds irresistible, when she last felt proud, and more! Tune in to the finale of The Biggest Loser on Tuesday night at 8 p.m. on ABC.Last time I felt proud: When my son, Ben, hit a baseball. I'm so proud of him. Everything he says and does fills my heart to overflowing, and it's the same with my daughter, Megan. They always fill me with pride.
Article continues below advertisement
Last risk I took: It was during a scene on Days of Our Lives that I shot yesterday with Galen Gering, who plays onscreen beau Rafe. We just went for it. It was something different for me, and I felt like it was really a risk. I was proud to be part of it.
Last time I felt guilty: When I missed the gym last week. I sat at home and watched TV instead. It's not something I'm proud of, and I definitely felt guilty about it.
Last time I felt starstruck: When I met Pete Sampras doing an event for EA Sports Active, which is a fitness program on the Nintendo Wii. I love him. He's an amazing, incredible athlete. Of course, he told me that he and his wife watch The Biggest Loser sometimes, so that was awesome.
Last time I was mistaken for another celebrity: I've been mistaken for Reese Witherspoon. Not recently, but it's happened. They say, "Aren't you that girl?" from the latest movie she's in, and I, of course, have to say, "No, I'm Alison Sweeney. I'm on The Biggest Loser."
Alison has teamed up with Crest Glide floss to help benefit Feeding America through their Tight Spaces challenge events. Follow Alison on Twitter to learn more.