NEWS
The Last Word with Faith Hill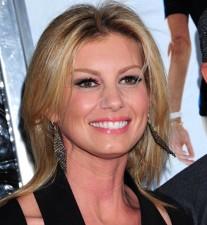 Faith Hill, country superstar, chatted with OK! recently and shared the last time another celebrity made her cry, the last romantic thing hubby Tim McGraw did for her and revealed her last indulgence.
LAST WORKOUT: We just moved into a new home in Franklin, Tenn. after building for three and a half years. I haven't had much time for anything else, but I've certainly been working out doing that!
LAST FAVORITE MOMENT WITH MY DAUGHTERS, GRACIE, MAGGIE AND AUDREY: Watching them discover the genius of Michael Jackson. They've been absolutely obsessed with him; they dress up like Michael and then film themselves — it's quite incredible!
Article continues below advertisement
LAST ROMANTIC THING MY HUSBAND, TIM MCGRAW, DID FOR ME: This morning, before I got up, Tim had set up an area where I could go and do my work for the day; that was very romantic to me.
LAST INDULGENCE: I'm sure it had to do with a piece of furniture for our new house.
LAST TIME I WAS STARSTRUCK: The first time I met Aretha Franklin, I actually cried. When you listen to someone as much as I've listened to her and then meet her for the first time, I guess that's normal. I was kind of surprised by my reaction. She inspires me to this day!
Faith's debut fragrance, Faith Hill Parfums, is available for $31 at JCPenney stores nationwide.
Interview by Michelle Edgar