NEWS
The Last Word with Glee's Jane Lynch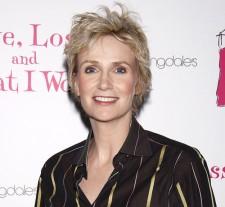 Glee's tough-talking Coach Sue, Jane Lynch, chatted with OK! recently and revealed what YouTube videos is the cast's new favorite and shared the last thing that made her laugh.
Last Time I Laughed:
When my dog George fell off the bed. She was very embarrassed and ran into her crate.
Last Time I Was Angry:
Yesterday, when I couldn't get my e-mail to download as fast as I wanted it to.
Last Celebrity I Met:
Article continues below advertisement
I did an episode of Party Down and in it I'm getting married and he plays a love of mine who tries to stop the wedding. It was fun.
Last Funny Thing That Happened On Set:
The kids are always checking out YouTube. There's this one called "Grape Lady": A newscaster is stomping grapes, and she falls and breaks her collarbone. It's horrible. But it's what the kids are watching.
Last Song I Downloaded:
Madonna's "Vogue." I've been kind of up on Madonna these days. I grew up in the '80s, so she provided the soundtrack to my life. I think my favorite song is "Crazy For You." It's got such an aching and a longing to it; I know we're doing that song in the Madonna episode on Glee.