NEWS
The Last Word with Queen Latifah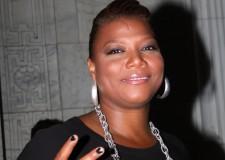 OK! chatted with the Grammy-winning singer Queen Latifah, 39, who revealed what makes her feel sexy while answering some of our favorite "last" questions.
Last time I was caught speeding: It was maybe eight months ago. I was driving my Aston Martin, and it's a very fast car. I was up to a buck 20 before I realized it. I apologized and got off with a warning laughs.
Last chore I did: I clean my apartment in New York every time I come in. I like things neat, but I can be a little messy sometimes, so I have to keep up with my stuff. I drink a lot of water and, you know, use a lot of glasses. Yep.
Article continues below advertisement
Last time I was mistaken for another celebrity: It was in Manhattan, when we're shooting the film Just Wright, and somebody was like, "Is that Missy Elliott?" Um, yeah. We look nothing alike, either, which is the funniest part of it.
Last indulgence: I got a cute little Versace purse that I bought. It made me feel sexy.
Last time I was embarrassed: That would probably be a couple weeks ago. I got a little too tipsy and took a spill.
Last time I saw my Mad Money co-star Katie Holmes: Probably in person a year ago. It's been awhile. I saw her on So You Think You Can Dance, though. She did great.
CoverGirl and Jenny Craig spokesperson Queen Latifah takes a spin in a Ford 2010 Mustang in her video "Fast Cars." NASCAR phenom Colin Braun helped her hone her driving skills at the New Jersey Motor Sports Park. Watch the footage at the2010mustang.com. Her album, Persona, is out now.