NEWS
The Last Word with Sheryl Crow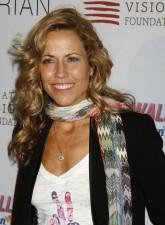 OK! chatted with breast cancer survivor and singer Sheryl Crow to find out how she's doing. The answer? Great! Sheryl, a breast cancer survivor, answered a few of our favorite "Last Time" questions as well.
Last Time She Said I Love You: Probably about half an hour ago, to my son on the telephone.
Last Milestone My Son, Wyatt, Achieved: He's swimming by himself, all the way across the pool. And he went down to the deep end to pick up toys for the first time. That's huge. He's only 2.
Article continues below advertisement
Last Time She Wore Pink: Last week, because it was freezing. It was a J.Crew V-neck sweater.
Last Time She Soaked Up The Sun: Two weeks ago in L.A. but I wore sunblock.
Last Time She Was Screened: In April. Everything was good.
A portion of the proceeds from each Sheryl Crow Take Flight Everywhere Bag sold benefits various breast cancer research foundations. The environmentally friendly totes are decorated with the title to her song, "A Change Will Do You Good." Available from Flypaper, $10, bonton.com.